What does it involve?
So what does it involve? How much does it cost? When is the next programme? What is the time commitment? Answers to these and other questions below.
Overview
Arrow is about life change. It isn't just another course or conference. We all know the reality of attending yet another inspiring conference and the accompanying resolutions to do things differently. But six weeks later the notes are at the bottom of the overfull in-tray, and no real change has taken place. Whereas Arrow is an integrated learning process, carefully designed to lead to life change.
It runs over 18 months, combining residentials with mentors, peer cells, and preparation/development tasks. Why so long? Because you don't change habits or character in a few weeks.
Based on a biblical model of leadership development, Arrow doesn't just focus on skills in leadership and evangelism, but considers character and call as well. Both these are foundational to ministry. 'Who we are' and 'discerning God's priorities' for our lives are as important as 'how we lead'.
How it works
Arrow works on a number of levels:
Residentials – each of these combine excellent teaching with worship, reflection, and fun. The module leaders are practitioners on the coal face, committed to resourcing emerging leaders. The residentials raise lots of issues, provide many new insights and challenge you at the deepest level. There are four in total (one a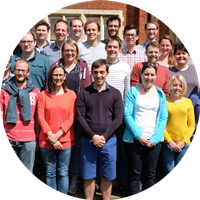 term), and they run from Sunday 5pm to Friday 2pm.
Mentor – each participant is linked with a mentor they meet with once a month. Their role is to help the participant integrate what they are learning during the residentials into their daily lives.
Peer cell – each participant is part of a small group of other participants from the programme. They meet twice between residentials for mutual support, encouragement and accountability.
Preparation/Development – linked with the residential modules, the preparation/development tasks aid the outworking of what is learnt. They are very varied, and not assessed for academic ability, but rather focus on practical things that make a difference to life and ministry.
Time commitment
You will need to spend a total of about three hours per week on Arrow outside the residentials. This weekly total will include activities such as meeting mentors, getting together with peer cell members, working on preparation/development and reading.
Model
'Fresh imaginative leadership will be required and will need resourcing for the church of the 21st century.' 

Chris Edmondson, Fit to Lead
Arrow's unique model combines five biblical aspects into a dynamic and integrated approach to leadership development. 
Curriculum
'The carefully blended triple focus on leadership, evangelism and character is unique and catalysing.' 

Rich Johnson, vicar, Worcester
The curriculum constantly changes as we tailor each programme to those participating.
Accreditation
Arrow isn't accredited because the focus of the programme isn't on academic learning or simply skills development, but rather on life change. As one participant recently said:
'The most important thing I learned on Arrow was who I am and how that affects everything I do.'
This is partly what makes Arrow unique among leadership development courses. There is material on skills and competence, but it is combined with exploration of God's call on our lives, our relationship with him, and the development of our character. We want to be free to go with what God is doing in a person's life, and for each participant that is different. Because it is different, it isn't viable to gain accreditation, or at least not in an earthly sense!
Costs
To keep costs down the programme is significantly subsidised by CPAS. The actual cost of running the programme is approximately £6000. Each participant is currently asked to find £3960. The fee covers:
The four residentials (full board).
Extensive programme materials.
Professional assessment inventories.
The mentor scheme.
A preparatory day, Take Two (a day mid-way through the programme) and a Moving On day (a spouse or friend of the participant is invited to each of these days).
Each participant is responsible for their transport costs and purchase of books for study/integration tasks.
We strongly encourage you to seek the endorsement of your church, diocese or organisation and to seek a contribution from them towards your costs.
Upon acceptance of the offer of a place, a non-refundable deposit of £200 is payable by each participant to secure their place. For details of the fees policy that will apply should a participant withdraw from the programme, please download the Arrow Withdrawal Policy.
Please do not allow cost to be the governing factor when deciding to make an application to the programme. We have established a bursary fund, and limited grants are available for those who need them (enquiries to Jo McKee, Arrow's Programme Director).
Dates
Dates for the next programme are:
| | |
| --- | --- |
| Application process opens | September 2021 |
| Application process closes | 6 December 2021 |
| Applications considered | December 2021 - January 2022 |
| Selection | January 2022 |
| Applicants notified of decision | Early February 2022 |
|   |   |
| Preparation Day (participants and supporters)   | 5 March 2022 |
| Residential 1 | 15-20 May 2022 |
| Residential 2 | 9-14 October 2022 |
| Take Two Day (participants and supporters) | 21 January 2023 |
| Residential 3 | 5-10 March 2023 |
| Residential 4 | 11-16 June 2023 |
| Moving On Day (participants and supporters) | 18 November 2023 |

To apply you will need:
To apply you will need the application form, and an information leaflet and reference form for each of your three referees:
Arrow Application FormArrow Information LeafletArrow Reference Form